Frank Phillipp and Jesus Moreno
Jesus and Frank are today's feature pair in our Kristen Bjorn pics gallery. The two horny guys took to the back yard to pump some iron but as soon as they saw each other's muscles put to work they got really turned on and they wanted to pump their cocks instead. Well there are many advantages of having a personal trainer coming to your place every day and this surely is one of them. Frank is a busy business man that doesn't really have time to go the the gym so he hired a hot hunk to train him at home. At first Frank didn't want to try out too much because he didn't knew anything about the guy. but the other day he noticed that he wasn't wearing underwear and his hard cock just couldn't stay in his pants so when Jesus least expected he ended up with his hard cock in Frank filthy mouth. But he sure didn't do too much to stop him and just stood there enjoy the amazing KristenBjorn blowjob, because Frank beside being such a good business man he gives the best heads.
So watch Jesus having his big cock sucked by his friend in this update.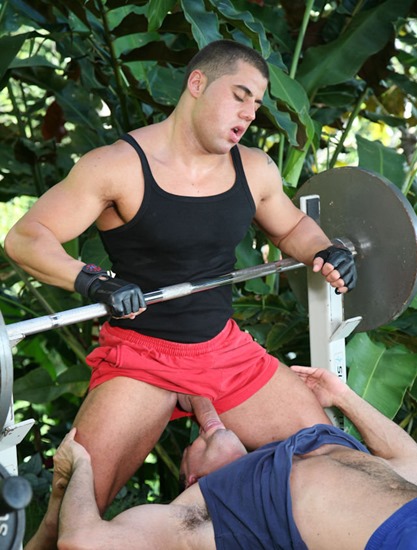 See these hot muscular dudes keeping themselves in shape!